In this busy world, we always expect our products to be delivered in their best condition and obviously, on time. The companies guarantee a specific time-frame, and they try to abide by it at all costs. 
However, some inevitable circumstances might cause a delivery exception. What is this exception? In this case, the exception means delaying the parcel. Such incidents can make your customers think twice before making the next purchase from your site. 
Many businesses are not aware of such exceptions. Here is the detailed information about delivery exceptions and some ways to help you deal with them effectively. Let's get started.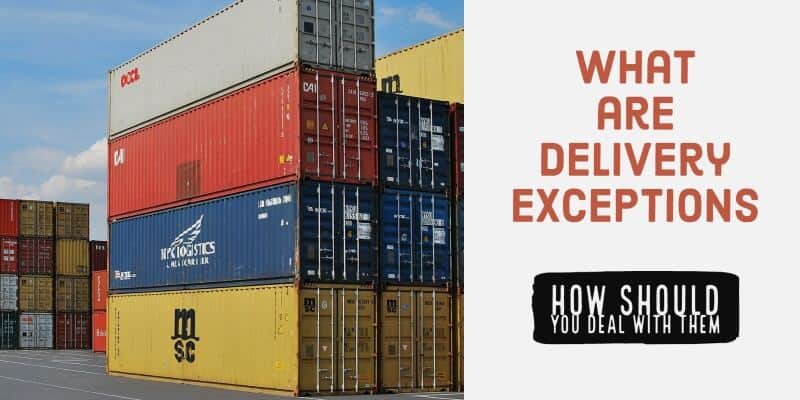 What Do You Mean By Delivery Exceptions?
If you are new to the e-commerce business, you may not view Delivery Exceptions. It is the situation that occurs when the delivery meets unpredictable or exceptional events that result in a delay of timing schedules. 
Certain companies have initiated a proper customer support system to deal with such scenarios. They provide in-depth information about the delivery to the customer and give a particular reason for the delay while explaining the situation. Even the most planned and complicated packaging may fall for these exceptions.
Note: Delivery exception is not all about halting the parcel. It also alerts the customers that there are some issues during the transmission. For instance, some companies facing delivery irregularities may also reach their destination on time. The exception is the alert that makes the customer aware of any unprecedented issue.
Why Is Delivery Exceptions So Much Important To Look At?
The delivery exception has a great impact on clients. Customers may get frustrated with late deliveries or improper services. Yes, it is unexpected and involuntary, but this creates a great impression of your services. There are three outcomes of this delivery exceptions:
The package is, however, delivered on time.
The parcel is delivered late.
The parcel is returned to the sender.
Every e-commerce business should be prepared to deal with such unwanted circumstances.
Most Common Causes Of Delivery Exception
Here are some of the most common reasons that might cause a delivery exception. Let's have a look at some of them.
Custom Delays
In the case of International Shipping, packages take a long time in customs than expected. This might lead to missing the delivery dates and timings. What is the course of action? Well, get proper documentation and codes for seamless shipping to avoid such a situation.
Missing Labels
This is a common scenario for local and ground services. A damaged or broken label will let the courier face difficulties to find a proper address or scan the barcodes. Hence, your delivery might not be completed. This one is not in your hands, though.
Bad Weather Conditions
Some unpredictable weather conditions are beyond human control, such as tornadoes, hurricanes, floods, and so on. This will inevitably cause a delay in the parcel. However, if you use multiple fulfillment centers, you will make the shipment from another location at your convenience.
Federal Holidays
At the time of any national holiday, shipments may deliver late. Some couriers do not operate on holidays. Due to the day off, the courier services may deliver the package late.
No One At Home To Receive The Package
Most of the deliveries have strict rules against a sign on delivery. Therefore, if someone is not at home, then it is likely that couriers will run late. Well. Most of the companies reschedule it for the next day. Customers are recommended to use delivery management tools to decide when, how, where the delivery will occur.
What FedEx, UPS, and USPS do for Delivery Exceptions?
Like all the other courier services, big-timers like FedEx, UPS, and USPS also face the same issues mentioned above. There are certain similarities and dissimilarities in how these mega service providers deal with the exceptions. Have a look at their approach to exceptions. 
FedEx Delivery Exception:
FedEx provides the code where you can get all the information. They will also help you with a proper explanation about the late delivery.
UPS Delivery Exception:
UPS provides direct updates to the customers. People can sign up or Email the services regarding the exception. They receive updates immediately when the parcel faces certain issues.
USPS Delivery Exception:
USPS provides an explanatory notice that includes all the details about the packages whenever you try to track your parcel.
How Should E-Commerce Businesses Deal with Delivery Exceptions?
Delivery exceptions are common, but if you know how to deal with it, then there won't be any major issue to begin with. Businesses should be aware of the fact to handle such situations.
Always keep updates about the carriers. Find out where the parcel is. If there is any problem, get the best possible way out to deal with such irregularity. If they have damaged labels on a particular parcel, provide them with the proper address, and ask them to make necessary changes. You can also get detailed information by contacting the service providers directly.
Contact the customers directly. Remember, proper communication will help to sort things quickly. Whatever may be the reason for your delivery to inform the customers, apologize for the late shipping, and email them accordingly. This will also help to build trust among the customers, and they will understand your inconvenience.
If the product is damaged or cannot get delivered, then interact with the customers immediately. Every business has separate insurance policies that they cover when the product gets damaged while transferring. Ask your customers about their point of view about whether they want a refund or they would like to resend the product.
The Bottom Line:
The delivery exception is part of the circle. It happens. The point is how you deal with it. For both the customer and the shipping company, it's important to be aware of the scenario and handle it diligently. Being an e-commerce business, you need to deal with an array of circumstances. Keep a clear head, take one step at a time, and resolve the issue with efficiency!