Can FedEx ship a USPS box on weekdays and weekends?
I get this question most often.
Today, I'm going to tell you whether fedex can deliver usps/ups packages from your home or post office.
USPS is United States postal service operating in the United States and associated states. It indulges in shipping the letters, registered mails and other postal services. It is a kind of independent establishment of a federal government of United States. It has exclusive access to letter boxes known by the name U.S. mail and some other personal mailboxes.
Let's first see…
What is FedEx?
It is the American multinational courier service company. It is the short form of the company's original name Federal Express, the company has gained respect from its service of overnight deliveries of parcel and couriers. There are many operating units of it with different names mentioned below
Express: It provides overnight courier service in the US and also international service which is in some bound.The company has the largest aircraft fleets in the world and serves their customers through it.
Ground: It provides the guarantee of delivery in Canada and US in a day. They operate large trucks whichare owned privately by owners but work for It. They have divided their territories for delivery of the couriers.
Smart post: It provides service to the e-commerce companies and merchants with collaboration with USPS for final delivery.
Apart from these are many other services that it provides in the US and Canada.
Agreement between the two
FedEx express subsidiary has announced the air transportation contract with United States Postal Service in the year 2013. Under this contract which was for the period of seven years, it was supposed to provide the airport to airport transportation of USPS express mail and their priority mails within the United States.
Can FedEx deliver or ship USPS box?
This, in fact, is the question that usually people ask and never get a clear reply, one of the employees working in it as a package handler has shared his personal experience and revealed some quotes in regard to this question which can be beneficial to the peoples.
According to that employee, if the package is properly labeled and addressed no matter what box it is in, they usually ship such boxes. Even if the boxes are multiple labeledof past shipping that can even be like 10 years old, they even deliver such boxes.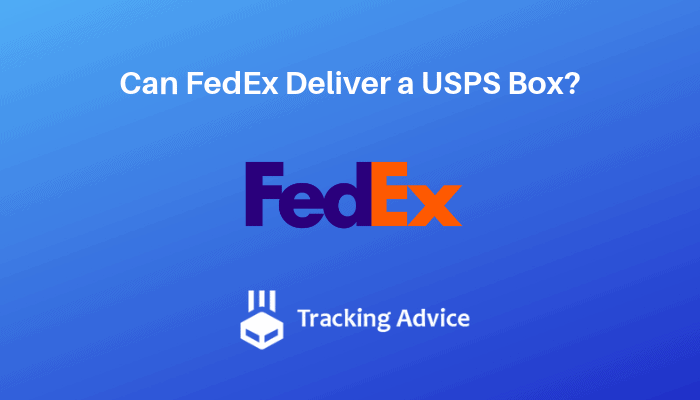 Few other disclosures by the employee in regard to this question includes
It does not rely on any other sources like the post office, UPS and DHL for delivery at least in the Texas area. Rather the company has bought some of these services and absorbed them into their business.
It usually accepts the packages from other companies. In fact, it need not suppose to take them but they provide shipping service in gentleman's agreement.
If any other company's Box or envelope arrives at FedEx, they just inform the company concerned and they collect their packages instantly for avoiding the delays in the delivery ahead.
Interstate deliveries of the USPS are often delivered by it according to the agreement. This is the same agreement between the two which is discussed above.
It delivers most of the USPS packages so as to reduce their overhead costs of the delivery as it has already been operating in certain areas using their trucks and other vehicles.
It also handles mail bags containing the USPS parcels, Bags and letters for delivery to the post office through FedEx trucks and vehicles. Most of these letters are from out of the state.
It is a bit stricter in this case and they go by the law as they are government agencies.
Therefore, yes the following procedure is possible without any hindrance and you can rely on their service.
We hope you got enough information regarding on "Can FedEx deliver a Usps box" topic. If so, then please share with others and follow us on social media.
Thanks!