Sometimes you may return home to a missed package delivery but with a UPS InfoNotice on the doorstep. There is nothing to panic about if that happens. It's the company's way of informing you about the missed communication. It's also a way of asking you what you want to do next about the situation. 
But to take the next action, you must know what the courier company is trying to inform you through the notice. You must learn how to read the information delivered through a UPS InfoNotice. It isn't too complicated once you understand the terms properly.
So, let us enlighten you with the information you need to read and understand everything about UPS InfoNotice. So that the next time when you receive it, you know exactly how to handle it.
Let's go! 
---
What is UPS InfoNotice?
UPS InfoNotice is a great tool linking the shipments for a particular delivery location to a unique number. This reference number, appearing at the bottom of the InfoNotice just above the barcode, can be used to track your package, change delivery options or collect the missed shipment.
UPS InfoNotice is a type of information memo that the UPS carrier leaves at your door to notify you about a missed communication. So, if you receive a UPS InfoNotice, the company has tried to deliver or collect your package but failed since no one was at home.
As the name suggests, UPS InfoNotice is a notice that provides you with information about your package, how to track it and what to do next to collect it. It's there to steer you in the right direction towards receiving your parcel, even if you missed their service. 
But to understand exactly what they want to tell you, you must know how to read the information in the UPS InfoNotice first.
How to Read UPS InfoNotice?
Your UPS InfoNotice will have many boxes to provide information about your package and its delivery. And your work is to find the check-marked boxes and figure out their meaning.
So, here are the boxes that appear on the UPS InfoNotice and the meaning of the things that they are trying to notify:
We, Will, Try Again the Next Weekday: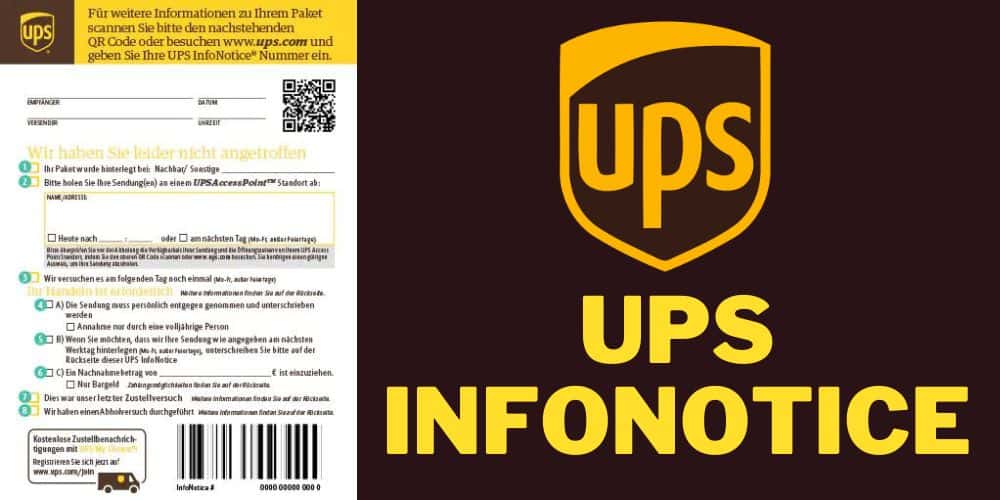 This notifies that UPS will make another attempt at a delivery next weekday if it's not a holiday. So, all you need to do is be available on that day and collect your parcel. 
In case you can't be present on that particular day either, then follow these steps:
Visit UPS Official Website
Click on the Tracking tab
Enter your InfoNumber on the box
Hover to the Tracking Summary
Click on Change DeliveryClick on Choose Another Delivery Option
Choose the delivery option that suits you the most from the list of choices.
Click on OK.
Your Package was Left At:
This notifies you that the UPS carrier had left your package with your neighbor or at a designated location. This is done as per your instruction on the UPS My Choice membership. Along with this notice, you will receive information on where the carrier left your parcel. And that will save you the trouble of searching for it. 
We Attempted to Make a Pickup:
This notifies you that UPS had missed their pickup service with you. If they have attempted thrice to pick up a parcel but failed, then they won't be attempting it again unless you request them for another one. Else, you can carry the parcel to the nearest UPS drop-off location to avoid another missed pickup service.
This was Our Final Attempt:
This notifies you that UPS had missed its delivery attempt several times before, and the last one was their final attempt at delivery. On receiving this notice, the immediate thing to do is to visit the Tracking tab on their website and tell them what to want to do next about the delivery.
Your Package(s) will be available for Pickup at a UPS Access Point Location:
This notifies you that your shipment will be available at the nearest UPS Access Point Location, and you will have to collect it at a convenient time. But you must collect it within 7 days of receiving this notice; else, it will be returned to the sender. 
Below this notice are boxes to inform you when your parcel will be available at the location. So, either the box Today will be checked or The Next Weekday will be checked. You can also track your package to check if it's available for pickup. And then, visit the location with a government-issued photo ID as identity proof and collect your parcel.
Someone must be Here to Accept Delivery and Sign for your Package(s):
This notifies that the particular delivery demands a signature in person. It means someone must be present at the location to collect the package and sign for it. If it's not possible, you can opt for the "leave it with the neighbor" option by following the instructions at the back of the UPS InfoNotice. 
We can leave your package(s) the Next Weekday if you Sign the Back of this InfoNotice:
This notifies you that UPS is ready to leave the shipment at your doorstep if you can't be at home during the delivery. All you need to do is sign the back of the InfoNotice and place it somewhere the UPS driver can easily notice and make the delivery.
Your package(s) has a C.O.D. Due:
This notifies you that your shipment was ordered with the Cash on Delivery option, and hence you have to pay an amount to the UPS driver for him to deliver your package. Payment can be made via check, cash, certified check or money order. And if you need more payment options, you must visit the UPS website and choose it from the Tracking tab.
Your Package(s) has a Brokerage C.O.D. Due: 
This notifies you that you have to make the payment to the UPS Carrier by check or credit card.
3 Steps to Follow when you Receive a UPS InfoNotice
There are usually 3 main steps you must follow when receiving a UPS InfoNotice.
Track Your Package:
The first thing to do when receiving a UPS InfoNotice is to track your package using the unique InfoNumber provided on the notice.
Find Delivery Details:
Next, you must find the delivery details from the boxes the carrier has checked and the dates, time and information he has provided there. It will inform you about the present location of your shipment, when or if the delivery attempt will be made, or whether you need to pick it up.
Release Your Package:
The last step is to release your package and get it delivered safely and sound. Depending on your preference, you can request another delivery attempt, collect it yourself at a convenient time or even ask the carrier to leave it on your doorstep or with someone or somewhere else.
Some FAQs Regarding the UPS InfoNotice
Q: What is a UPS InfoNumber?
A: UPS InfoNumber is the unique reference code to attach an identity to your shipment. It's found above the barcode and is committed to aiding you in tracking your package, rescheduling your delivery, arranging a pickup, returning the shipment or having it delivered to another address.
Q: How to use the InfoNumber to track a shipment or get it delivered?
A: To use your InfoNumber effectively, you must go to the UPS official website and enter the number to the Tracking Summary page. You can then click on the Change My Delivery option to select your preferred option from the list (Will Call, Deliver to Another Address, Reschedule Delivery, Return to Sender) and insert the additional information required to proceed with the request.
Q: What to do if no InfoNumber is available?
A: Unavailability of an InfoNumber means that the package either hasn't been delivered or lost or misplaced. In that case, contact the courier service to know exactly what happened to your package. Or, ask the shipper if they have any information regarding your package. If you can at least track the location of your package, you can get it delivered to you.  
Conclusion:
UPS always looks for tools for their customers to have a trouble-free shipping service and a comfortable delivery. UPS InfoNotice is one such device that saves you from the panic of a missed communication. So, ensure you understand how to read your InfoNotice and avert the massive pain of a missed delivery attempt.