Is FedEx or UPS Cheaper? FedEx and UPS are two of the largest global courier services and the main competitors of one another. They may look synonymous to most of the customers, but a closer view will let them know about their structure and strategy variations. Shipping has already become one of the most challenging aspects due to its high demand in the market. UPS and FedEx are two of the most trusted service providers all over the world. 
Headquartered in The US, both the companies offer fast government postal services all across the nation and abroad. So, what makes one service different from the other? The most reliable way to optimize both of the shipping options is to get the carriers' best rates. 
If you are not familiar with both of the services, look at some of the fundamental differences between these two shipping partners FedEx and UPS. This will help you make a better conclusion for the service that you want.
Is FedEx Cheaper?
It provides an array of shipping options, both domestically and internationally. Well-known for its on-time delivery, FedEx also guarantees the customer a clear track of the shipment. They have now created a strong brand value among consumers. Trusted for reliability and timely delivery services, the brand now ranks as one of the most prominent billion-dollar companies in The US.
FedEx is the overnight courier service that ensures to provide next day service all across the US. FedEx Ground services promise to provide the same day-definite delivery within a negotiable price. There are services like same-day delivery and International Next Flight Delivery.     
Note: In the year 2019, FedEx made revenue of USD$69,693. 
Advantages:
● Accurate Tracking System
● Services Are Available Even During The Weekends
● Provides Quite A Suitable Price For Large Volume Of Package 
Disadvantages:
● Greater prices on shipping parcels over 70lbs
● No Free Package Pickup Services
Is UPS Cheaper?
United Parcel Service is renowned for its speedy and secure deliveries. This system also offers quite an impressive tracking system. UPS is considered as one of the most affordable delivery service providers all across The US.
UPS generally offers two time-definite services, domestic and international package delivery. If you are in a hurry, you can opt for UPS Express Critical. UPS manages all businesses like air, ground, and local information with a single pickup and delivery network.
Note: In the year 2019, USP made a revenue of USD$74,094. 
Advantages:
● Provides Guarantee Express Shipping
● Speedy Delivery
● Affordable Pricing
Disadvantages:
● Have Higher Shipping Cost When Delivered To Extended Areas
● No Free Package Pickup Service
UPS or FedEx: Which is Cheaper?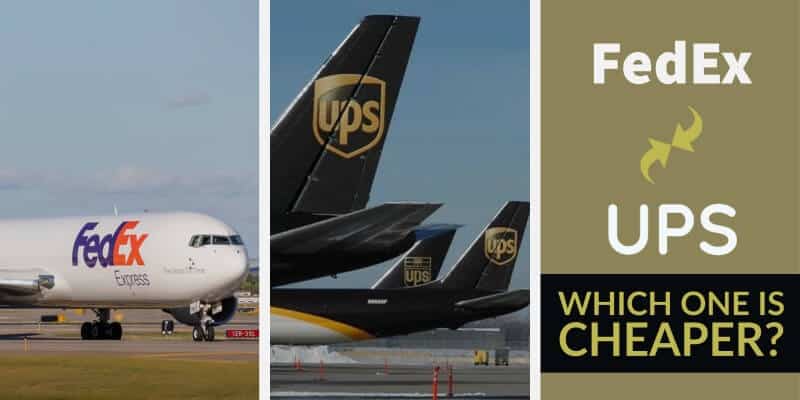 The pricing largely depends on factors like the type of services you choose, weight, time, shipping zone, and so on. Here are some examples that will describe what pricing you can expect from two major delivery services. 
Let's take an example that you want a shipment from Los Angeles to North Carolina. If we consider the delivery starting from Monday, then here is the approximate time and price you may get from both of them.
● Delivery Time: Tuesday 9 AM
First Overnight FedEx Services: $121.22
Next Day Air Early (UPS): $120.27
● Delivery Time: Tuesday 10.30 AM
Priority Overnight (FedEx): $88.18
Next-Day Air(UPS): $89.64
● Delivery Time: Tuesday 4.00 PM
Standard Overnight(FedEx): $280.26
Next Day Air Saver(UPS): $81.61
● Delivery Time: Wednesday 10.00 AM
2 Day 2 AM( FedEx): $44.51
2nd Day Air AM(UPS): $45.25
● Delivery Time: Wednesday
2 Day (FedEx) (4.30 PM): $38.86
2nd Day Air (UPS) (End of The Day): $39.52
● Delivery Time: Thursday
Express Saver (FedEx) (4.30 PM): $31.52
3 Day Select (UPS) (End of the Day): $32.03
● Delivery Time: Monday
Ground Services (FedEx) (3-6 working days): Not Disclosed
Ground Services (UPS) (End of the Day): $15.41
Both companies are quite simple but variable at a certain point. If you make an overall comparison in this context, then it's evident that FedEx is quite budget-friendly than UPS. In the case of ground services for small packages, UPS is much cheaper than FedEx.On the other hand, the shipping cost of FedEx is cheaper compared to that of UPS.  
In terms of International Shipments, FedEx is highly cheaper than UPS. This is why FedEx has more international shipping rates compared to others.
Let us compare the other shipping rates of both the carriers. 
| | | |
| --- | --- | --- |
| Services | FedEx (Rates) | UPS (Raes) |
| 5-Day Delivery | $16.99 | $17.89 |
| Lightweight  Packages | $9.80 | $10.95 |
| Heavy Package | $129.69 | $130.10 |
| 3-Day Delivery | $34.17 | $32.17 |
There are an array of shipping options all across the US. Both of the carriers cover insurance of $100 over their shipments. Priority Mail comes with insurance coverage of $50. In certain cases, you also have to buy additional insurance. Both UPS and FedEx ensure on-time delivery, or else it's free. If your delivery is late, you can claim that and get a full refund of the product. Based on an interview with 30,000 customers, The American Customer Satisfaction Index, they voted both UPS and FedEx over Postal Services in customer service and easy transactions. 
For Shorter Distance Which Is Cheaper? FedEx or UPS.
In the case of a short-distance carrier, both the prices are almost similar. They vary a bit. FedEx provides a cheaper rate if you are paying retail prices. Whereas if you are using Easyship, then UPS is a more promising choice than FedEx.
For International Shipping Which One Is More Suitable? FedEx or UPS
FedEx provides a much cheaper rate for small international shipments for both retail price and Easyship.
For Rural Areas Which Is Cheaper? FedEx or UPS
In the domestic package in rural areas, FedEx is cheaper if you are paying at retail price. In the case of Easyship, UPS provides a more suitable rate. UPS has more international options for rural areas than FedEx services.
To Wrap Up: Which One Is The Best? FedEx or UPS
Though both the courier services offer similar rates, FedEx is the winner, and the Easyship's UPS is more favorable in the case of retail rates. How to choose one? The most reliable way is to compare the number of services that both services offer to reach the destination.  
You can also have a look at the feedback section and also get quotes from other online platforms. Consider all the factors starting from delivery time to the value of money and choose what suits best for you.