DHL (Dalsey, Hillblom, and Lynn) is the courier subsidiary of Deutsche Post HL, which operates one of the world's largest logistical networks.
Deutsche Post HL has reach over 220 countries and include Express delivery, freight forwarding, and warehousing. So, Does Deutsche Post deliver on Saturday?
We'll go over everything you need to know about DHL deliveries on Saturdays in this post, from where they're accessible, how much they cost? and how to use them?
---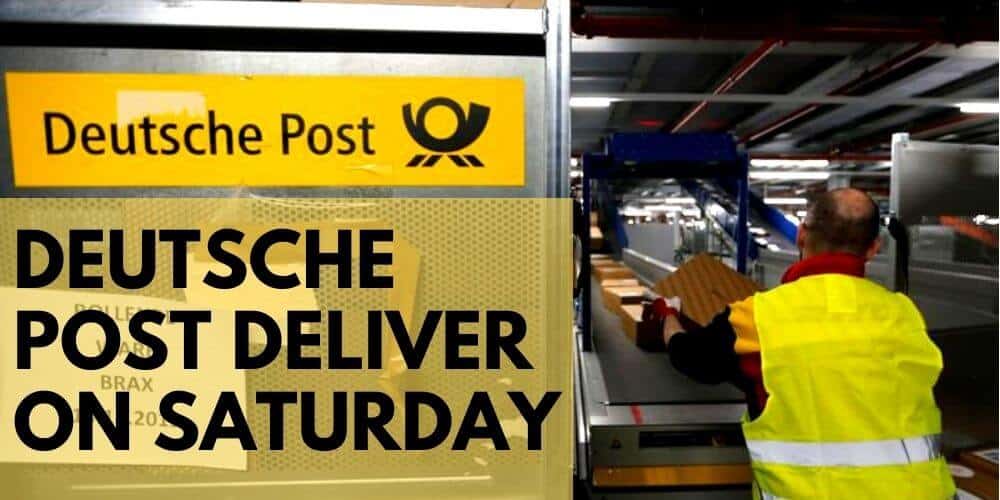 Does Deutsche Post deliver on Saturday? All Important Information
Weekend Delivery Service via DHL (Deutsche Post)
Because of the severe rivalry in the eCommerce market, the capacity to deliver outside of typical business hours has become critical. That is why eCommerce companies, particularly those based in Europe and the United States, are increasingly opting for courier services that provide home delivery on Saturdays and Sundays.

But unfortunately, the Deutsche Post does not provide weekend delivery in the United States.

Still, it does offer a wide range of shipping alternatives in Europe and other areas of the world for weekends.

DHL's typical delivery operations in Europe are Monday through Saturday. However, you may specify that your cargo is delivered on weekends when you book your cargo anywhere on the globe.

That's because, in the eCommerce market, being able to deliver on any given day is critical for urgent or unusual orders. Businesses also require last-minute delivery for special events such as Christmas or birthdays.

As a result, every wise eCommerce company will provide out-of-hours delivery choices to increase sales prospects. Delivering outside typical business hours helps the company ensure customer satisfaction and efficiency in operations. At the same time, it leads to a reduction in cart abandonment.
---
Deutsche Post Saturday Delivery: Cost for Europe

As previously stated, DHL Saturday deliveries are extensively available throughout Europe. Simply pick the option when booking your package to use these delivery options.

Delivery is available for an extra €40 per shipment cost. Parcels are normally picked up on Friday and delivered the next day for this service. For an extra €20 per shipment, pickup is also possible. It should be noted.

however, that these rates and services are limited to the Benelux region. In addition, DHL's Saturday delivery hours are often confined to the morning.

Pro Tip: You can calculate your shipping charges for different countries here: International prices | DHL
---
Does Deutsche Post deliver on Saturday? Different Ways for Different Countries
United States of America
DHL delivery in the United States is normally only available during regular business hours, Monday through Friday, 9 a.m. to 5 p.m. You can, however, arrange special delivery on weekends for urgent supplies. These can incur substantial additional costs; however, they might be handy if you need to transport an item quickly.
Europe and the United Kingdom
Deutsche Post throughout Europe between the hours of 8 a.m. and 6 p.m. Monday through Saturday. Deliveries are made to the Benelux countries as well. On the other hand, DHL only delivers to the Wadden Sea Islands in the Netherlands on weekdays. Weekend deliveries are picked up on Friday. With extra fees, a special Sunday delivery can be arranged. Be aware that DHL delivery times on this day are limited, so plan accordingly.
Malaysia
From Monday to Friday, between the hours of 830 a.m. and 530 p.m., regular deliveries are made throughout Malaysia. DHL's delivery hours are shorter; they typically run from 8.30 a.m. to 12.30 p.m. on Saturdays.
The Gulf of Mexico
Weekends are Friday and Saturday in the Gulf nations. The only day on which delivery is not made is Friday. On all other days, DHL collaborates with local post offices to provide deliveries.
Asia
In Asia, DHL offers Saturday and Sunday deliveries as well as parcel collection. DHL also delivers on public holidays in Asia if necessary.
Australia
Regular deliveries are delivered Monday through Friday between the hours of 8 a.m. and 6 p.m. in Australia. The length of time it takes to deliver a package is determined by its size and destination address. If necessary, special deliveries can even be performed on weekends.
---
Saturday and Sunday Deutsche Post Delivery Hours
DHL (Deutsche Post) delivery timings for Saturday are mostly determined by the location (and nation) from where you're shipping and receiving packages. On Sundays, DHL delivery times are the same. Delivery on that day is not possible in many Christian nations.
However, weekends are seen as ordinary working days in the Gulf, and deliveries are delivered during regular business hours. You can, however, request delivery at an additional cost in extraordinary situations.
---
What is the time duration of package delivery on weekends?
The cost of delivery is determined by the destination country and the package's weight and size. Using the shipping rate calculator, you may receive an approximation of your costs. This will provide you with three estimates: one for booking online, another for dropping off the package at a place, and still another for booking by phone.
You'll be able to locate the nearest drop-off site as well. You'll normally have to pay an extra US$50 for each package for this form of delivery. You'll have to pay a significantly greater premium in nations where Saturday delivery isn't common.
---
✪ How to Take Advantage of the Service
---
✪ Frequently Asked Questions (FAQs)
1. Why am I unable to locate a pricing list on this website?
We strive to provide great customer service and emphasis. This also implies that we want to offer the finest possible service and pricing combination. As a result, we do not provide a uniform pricing list. We want to learn everything we can about your company and your needs to recommend the right goods and make sure the pricing is right for you.
2. How do I properly address a letter?
Addresses should be typed flush left in a consistent typeface with consistent line spacing. Lettering should be done in dark ink on a light monochromatic backdrop with no borders or highlights. The address should be positioned with a boundary of at least 15mm from the envelope's left, right, and bottom edges and a minimum distance of 40mm from the envelope's upper edge.
---
Is DHL Able to Deliver on Other Weekend Days?
Well, that depends entirely on where you reside. DHL, for example, does not deliver on that day in the United States (or at all on weekends). On the other hand, DHL offers Sunday pickup and delivery in several countries, such as the United Arab Emirates.
It is a regular working day in nations where it simply utilizes local post offices (like the UAE).
Only urgent shipments can be delivered on the same day in other countries. These, of course, come with hefty additional costs. DHL delivery times are substantially shorter than on weekdays; deliveries are frequently performed in the morning.
DHL provides a wide range of shipping services and solutions for both personal and commercial requirements. DHL provides shipping options for everyone, from small and medium businesses to major corporations.
There are various software integration options available. The following are some of DHL's most popular services:
Of course, the services you receive are primarily dependent on the location to which you deliver and are subject to additional charges. Simply pick the DHL Saturday Delivery option when booking your package to take advantage of these services.
---
Conclusion

Offering weekend delivery will provide you with a competitive advantage as the eCommerce industry becomes more competitive. DHL is a dependable courier service that provides a variety of services to assist you.